7月末に日本を出国するとき、飛行機の預け荷物と手荷物だけでは足りませんでした。なので、しばらく使わない秋冬用の服や靴などは、2箱分船便で送ることにしたんです。数ヶ月なら待てると思って。
When I left Japan at the end of July, checked baggage and carry-on baggage for the flight were not enough to bring my stuff to the UK. So I decided to send two parcels of autumn/winter clothes and shoes by ship. I thought I could wait for a couple of months.
ところが船便は待てど暮らせど一向に届きません。追跡してみても7月末に日本を出たと記載があるのみ(知ってる)。その間にもロンドンはどんどん寒くなっていきます。10度を下回る日も出てきました。
However, the parcels wouldn't arrive after a couple of months. I looked up the tracking of the parcels, but it only said they left Japan at the end of July (Thank you. But I already knew it). Meanwhile, London got colder as lower than ten degrees at night.
「もしかしたらロストしたかもしれない…」と思っていたのですが、先週突然イギリスに上陸しました。日本出国からイギリス到着までの追跡も欲しい…
I started believing that my parcels might have been lost. But they suddenly showed up in the UK last week. I wish I could track the journey between Japan and the UK.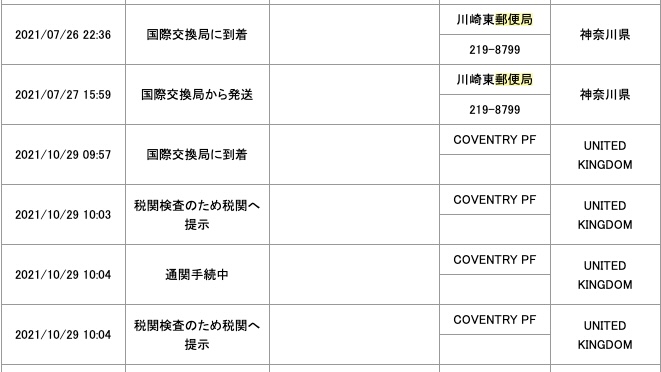 なのに、全然自宅に届きません。すると昨日手紙が2通届きました。嫌な予感しかしません。開けてみるとこう書いてありました。「国際郵便が届いています。受け取るには関税を払ってね。払わない場合は送り主に返送します」。
But my parcels wouldn't arrive at home. Instead of receiving my parcels, I received two letters yesterday. I could smell something bad would be written on them. It said, "You have been sent a parcel from overseas. Delivery of this parcel to you is subject to payment of Customs charges. If you don't pay it, the parcel will be returned to the sender"
その額なんと4万円…涙涙涙
The charge in total was £270…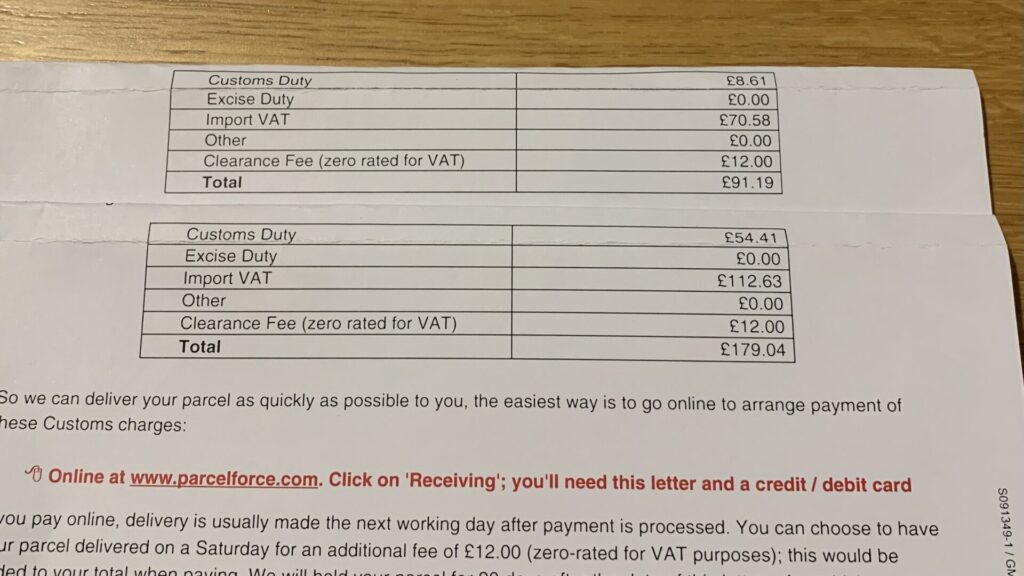 どうしてよ。僕の高くない私服と靴だよ…送り主は僕だよ…何にいくらかかるかなど詳細は全く書いておらず、泣く泣く言い値を払いました。悔しい!
Why is it so expensive!? They are my non-expensive clothes and shoes. And I'm the sender. The charge was not detailed. So I couldn't tell how much things cost for what. There was nothing I could do but pay the charge.
明日荷物が届きます。せめて中身が無事でありますように。
The parcels are arriving tomorrow. I am wishing everything in the parcels is not damaged. 
インスタグラム、ツイッター、YouTube、フォローしてね!
Follow me on Instagram, Twitter, and YouTube!
Instagram @kanyonce
Twitter @kanyonce
Tweets by kankanyonce
YouTube @Kanyonce